Our Story & Creekwood Resort Updates
Creekwood Resort Cabins & RV Park – Rental Cabins and RV Sites in the North Georgia Mountains near Helen, GA and Unicoi State Park. A quiet park for adults, age 21+ only (sorry, no children allowed).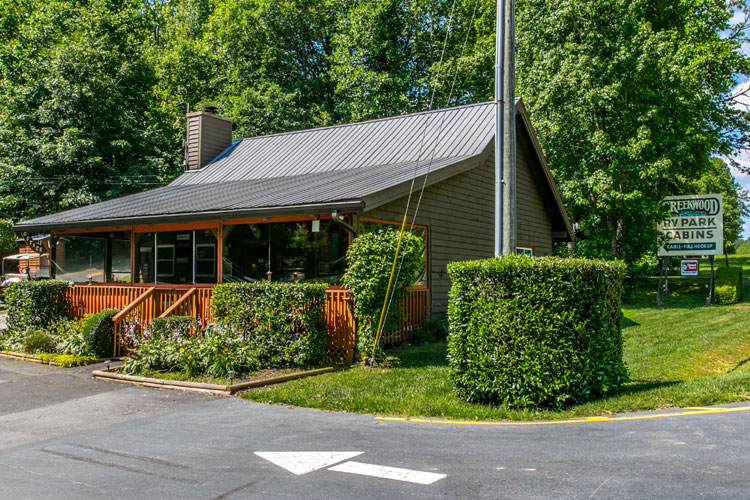 About Creekwood Resort
Most everyone that comes here says the same thing over and over… "This is what we want to do" … "How did you do it?" …or… "How much do you want for it?" Basically, we got lucky finding this little piece of Heaven here in the North Georgia Mountains. (It's not for sale). We love it here, and have no plans of leaving.
We, Robert & Melissa, started camping in 1999; after buying our 1st used motorhome, we later ordered a new one from the factory. We were hooked right away on the camping lifestyle. We are big NASCAR Fans and loved camping in the infield of Daytona and Talladega.
Robert loves Fly Fishing and is always in search of the ultimate river. We found Helen, Georgia and the Chattahoochee River on a Birthday camping trip we took my dad (Melissa's dad, Harry) in June of 2003. We camped at Vogel State Park and Unicoi State park. Little did we know that one year later we would find our future home and life only 3.8 miles farther down the road from Unicoi State Park on Hwy 356. We were sick of traffic, commuting, and working for someone else in the "not so fun" corporate world. So we started looking for a Campground, the cabins were a bonus. After finding Creekwood Resort in May of 2004 and doing a lot of research and negotiating, here we are. We closed on the Campground and Cabins on July 15th 2004.
Now everyone brings camping to us, and the best part about this venture is that everyone that comes here is on vacation and very happy.
2011 Update: For those who do not, or have not, gotten our Newsletters, we had a fantastic year in 2011. Our regulars keep coming back and supporting us which we are very grateful for; we hope to have a lot of new customers this coming year.
2012 Update: We had to replace the pumps and clean our septic system, then in the winter we had to replace the pump on our well along with the piping, so we now have super good water pressure.
2013 Update: We have completed our Tornado Shelter/garage/woodworking shop: (almost) but it is now a safe place for everyone to go during heavy winds and tornados.
2016 Update: We had our roads resealed and repainted, we had all 3 big cabins leveled and stabilized so now all the sliding doors and French doors open easily. We put new beds and some new furniture in our cabins. This spring we are having all the buildings repainted, we also plan on pouring new concrete on some of the RV sites. We are always trying to improve what we can, so keep booking and coming back. We also started changing over to become an Adult-only Resort for ages 21+ (but we are NOT a nudist park).
2019 Update: In the spring we cut 16 trees that were sick or dead, we had our roads re-paved, patched, widened, sealed and painted. (Because of mistakes made in 2016 by the paving company). Replaced wood walls with brick walls. Added 3 pieces of Bowflex Gym Equipment for everyone's use. (Must get key to gym). Thanks again for your continued support. 🙂
2021 Update: So much has happened since our last update of 2019. We did repave sites 8 & 9, we had our septic system rebuilt, put up new signs (built and installed by our good friend Mark Holloway) and they look fantastic! We continue to make improvements and look forward to the future. As of November 2021, we have decided not to sell the Resort – we thought we wanted to, but things in America are too unstable right now, so we decided to stay put for the next few years. We may never leave because "it's our little piece of Heaven" 🙂
 2022 Update: A new Dog Park has been added to Creekwood Resort in order to accommodate the other members of your family.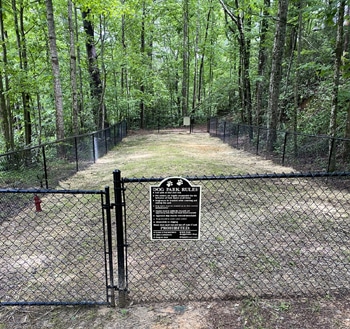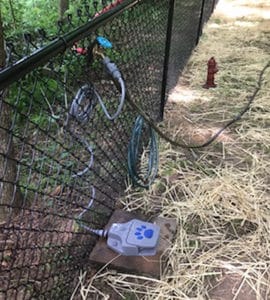 The Dogs Story – New Members of the Family
Mr. Bernard and Miss Clancy, our yellow Labradors, have both passed away. They will never be forgotten.
Ella & Louise, our Chocolate Lab Sisters, just turned 2 years old on Dec. 22, 2011. They also love everyone and welcome any attention they can get.
2013: Ella & Louise are now 3 years old (21 in dog years, so they are legal) and happy as ever.
2016: The Girls are still doing great they turned 6 in December, spoiled rotten as ever!
2019: Ella & Louise are still doing great, they will be 10 this year… where does the time go!
2021: Sadly, we lost Louise this summer and she is missed every day. Ella is sad but getting better and now even more spoiled; she will be 12 years old on December 22nd.
June 2022 : More sad news, Ella has gone to be with her sister Louise. She was in too much pain and other issues, she will be missed like crazy, just like all our fur babies.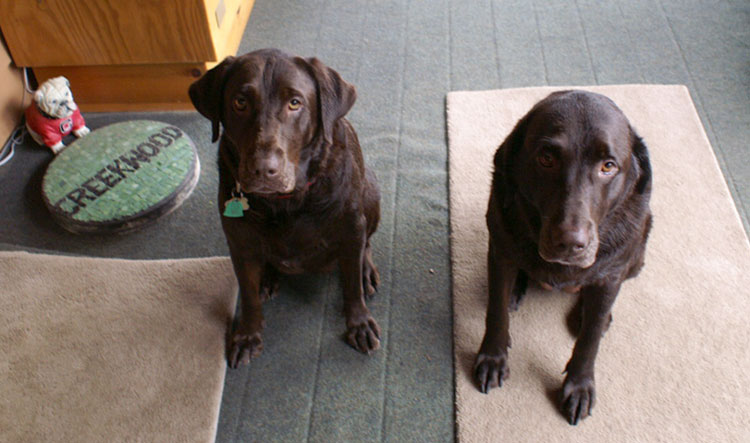 Creekwood Resort
5730 Highway 356
Sautee Nacoochee, GA 30571